The KIS (and some Pulsar) Builders Dinner
---
OSHKOSH 2003 - NEWS - John and Carrier are hosted the combined KIS Builders dinner again this year. Our collective thanks to them for another outstanding dinner and great time. The food was great and the company was even better.
---
To John and Carrie Forster:
Once again, you two did an outstanding job and our collective thanks go out to you and your family. Your hospitality is unequaled. We are very lucky to have you in the Oshkosh area and willing to spend so much time and effort to entertain this crusty old group of builders. Thank you so very much.
Bob Reed
---
Bob,
Great to see you again this year! Here is the group photo from the dinner.
We'll send more photos later, if you wish. I know you took some also.
Here are the names, starting with the top or back row:
Very Back Row (some partially hidden): Ken Clark (South Africa),
NickReddin (UK), Ray Clegg (UK), Jackie Gilbert, Charlie Smith, Jerzy Krezinski
Second Row (standing): Mary Ann Clark (South Africa), Vance Jacqua,
Larry David, Bill Schertz, John Van Niekerk (South Africa), Lillos ?, Clive ?
First Row (kneeling): Frank Drefs, John Forster, Bob Reed, Jim Lagowski,Lee Jacqua
Front Row (sitting): Jessica Forster, Carrie Forster
Steve from South Africa took the photo; he was the only person not in it. I
don't know Lillos' or Clive's last names. I think Vance would know Lillos'
last name, and Clive was with the South Africa contingent.
Let me know if any of the labeling isn't clear.
Thanks!
Carrie
---
To all KIS Builders:

Vance lost his battle with cancer and has gone to a place where he can fly with the angels forever. I have decided to keep this photo on the web site to remind us of a great man and a great aviator. We will miss him.

The true meaning and spirit of Oshkosh is really brought home by this photo. The look on that kids face and the sparkle in his eye was worth a million dollars.
---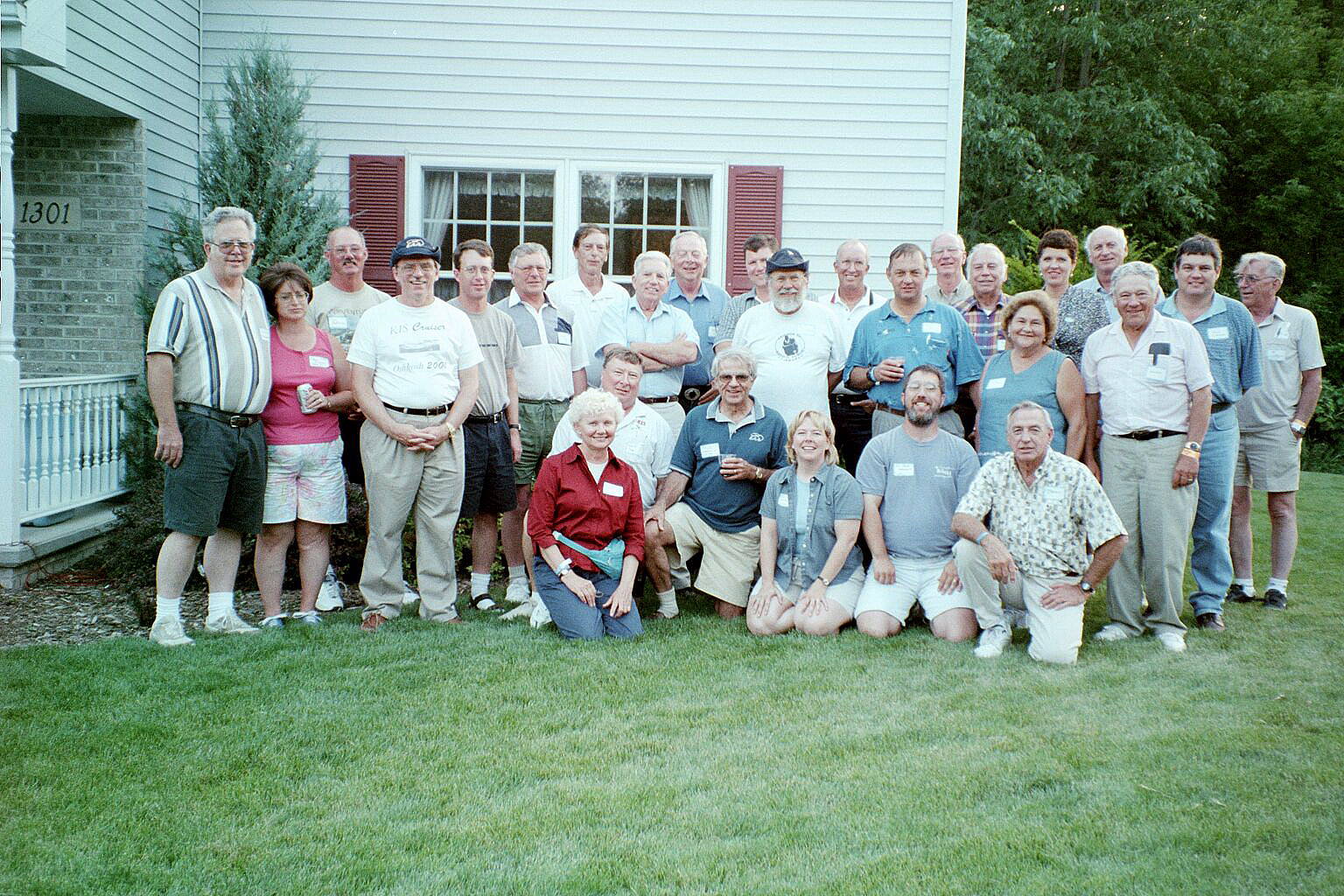 Airventure 2000 Group Photos:
First Row Left to Right: Mary Ann Pyle, Geoff Older, Jim Lagowski,
Carrie Forester, John Forester, Jerry Morrell
Standing Left to Right:
?1, ?2, Bob Anderson, Bob Reed, Unknown, Laurie Tuff, Rich Trickle,
Bill Grote, Kent Pyle, Paul (Bear) Randall, Bill Schertz, Paul Cyphert, Ken Clark ,
?3, Vance Vaqua, Mrs Goetz, Mary Anne Clark, Dave Tate,
Wayne Goetz, John van Niekerk, Lee Jaqua
---
As you can see, we still need to have some names filled in.
My thanks to Bill Schertz for helping fill most of the
above but we need your assistance in completing the list.